DaeHyup Spray Way
•A self adhesive glass or stone wool, sprayed directly onto a surface.
•Easily applied to wood, steel, plastic or other surfaces without any mechanical fasteners whatsoever.
•No risk of air pockets between the insulation material and the underlying surface, now or later.
•No gaps or cracks between pre-fabricated elements. It is seamless!
Easily applied onto flat, curved or uneven surfaces, inside ducts, around corners,
on already installed equipment, onto electrical or plumbing fixtures.
•Entirely free of any additives such as solvents, asbestos, cement or fusel silicates.
Not affected by vibrations caused by, for example, industrial machinery,
ship's engines or drilling equipment.
Eliminate your weakest points

Our quality management system is certified according to ISO 9001 & ISO 14001, OHSAS 18001. As for fire protection in the marine and offshore sectors, some of the toughest environments in the world, DaeHyup Spray solution fulfills every single requirement stipulated by regulating agencies-anywhere. Fire protection is always a serious matter, particularly onboard ships, on offshore oil rigs and in other sensitive environments.
DaeHyup Spray
DaeHyup Spray insulation system is a unique environmental-friendly method for spray on insulation system.

DAEHYUP SPRAY S





• Stone(rock wool) in combination with a waterborne two-component binder system.
• For fire insulation type.(A-60, A-30 class)




DAEHYUP SPRAY G





• Glass wool in combination with a waterborne two-component binder system.
• For the thermal, noise and sound insulation type.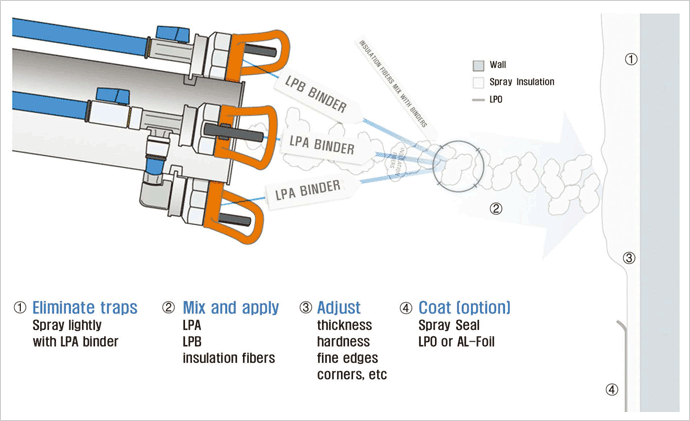 DaeHyup Spray S
DaeHyup Spray S have density of 140㎏/㎥(A60 class) and 120㎏/㎥(A30 class) with grey in its natural color and have the same qualities as DaeHyup Spray G in sound absorption, condensation control, and thermal insulation, but is used where a fire rating is need.
DaeHyup Spray S is used as fire protection in almost any application, such as in steel construction, offshore installations, lead through in fire walls and turbine insulation, for ceiling, duct insulation and angels of roofs.

Fire Protection
DaeHyup Spray S has been approved as fire insulation, A60&A30 Deck and Bulkhead, IMO 2010 FTP CODE PART 3 by DNV and other major classification society.


Finish condition of DaeHyup Spray S
DaeHyup Spray G
DaeHyup Spray G is white in its natural colour and is rated Non-combustible material, IMO 2010 FTP CODE PART 1 by DNV and other major classification societies.
DaeHyup Spray G is light weight material, density 45~65㎏/㎥, and is used for sound absorption, condensation control and thermal insulation in areas where a light weight material is requested.
Fire Protection
The thermal conductive of DaeHyup Spray G has been tested, λ=0.033W/m℃

The heat transmission coefficient (k-value) : k=λ=/t
Where :
λ=Coefficient of thermal conductivity
t=Thickness of insulation

W/m℃

W/(m℃)
㎜

Condensation Control
One of the best characteristics of DaeHyup Spray G is its capacity to contain to contain large quantities of water vapor, and relese the vapor without any damage to the insulation or to the adhesion to the substrate.
Sound absorption
DaeHyup Spray G provides a high level of sound absorption and can therefore be used in solving various problems of acoustics in ships, railway carriages and building.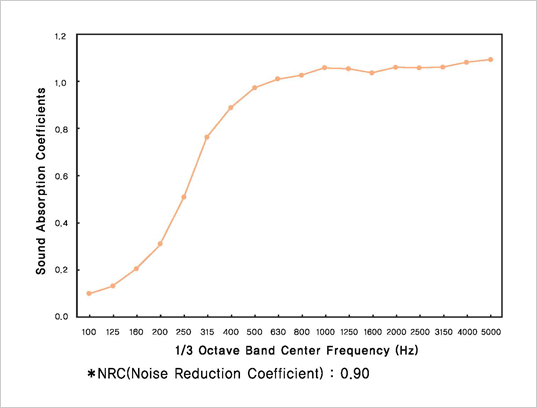 Sound Reduction
DaeHyup Spray INSULATION has host a series of sound reduction measurements carried out by Korea Marine Equipment Research Institutes. (KOMERI), KOREA
Measurement according to ISO 10140-2 and ISO 717-1
DAEHYUP SPRAY G (30T) [Steel side]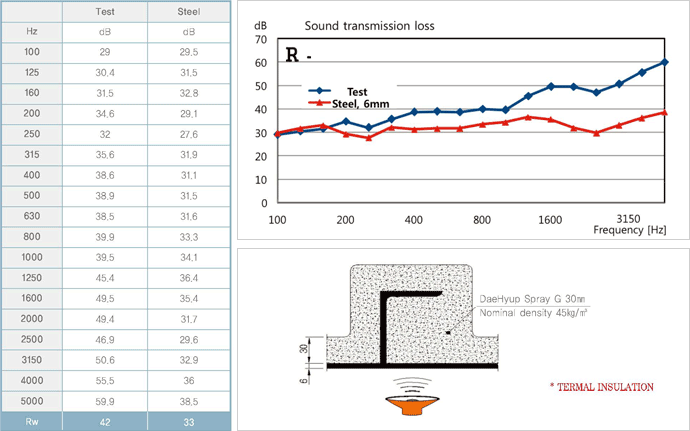 DAEHYUP SPRAY G (30T) [Insulation side]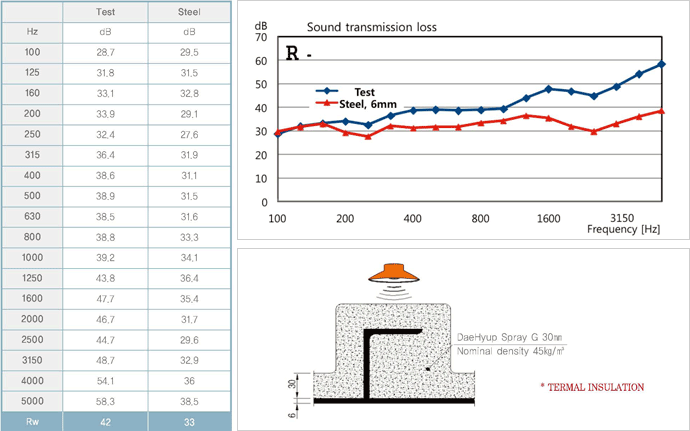 DAEHYUP SPRAY S-B101 [Steel side]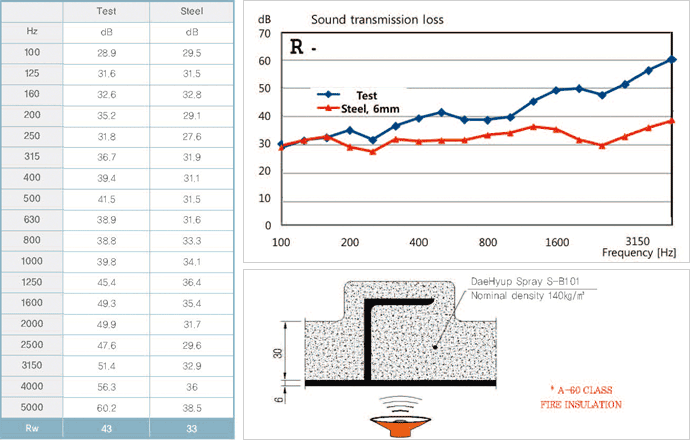 DAEHYUP SPRAY S-B101 [Insulation side]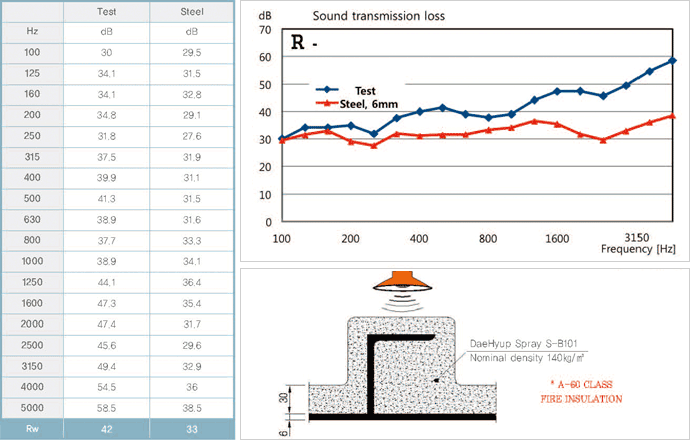 DAEHYUP SPRAY S-B201 [Steel side]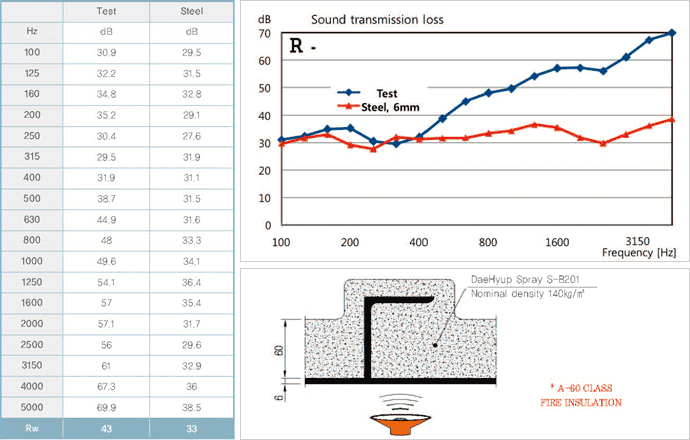 DAEHYUP SPRAY S-B201 [Insulation side]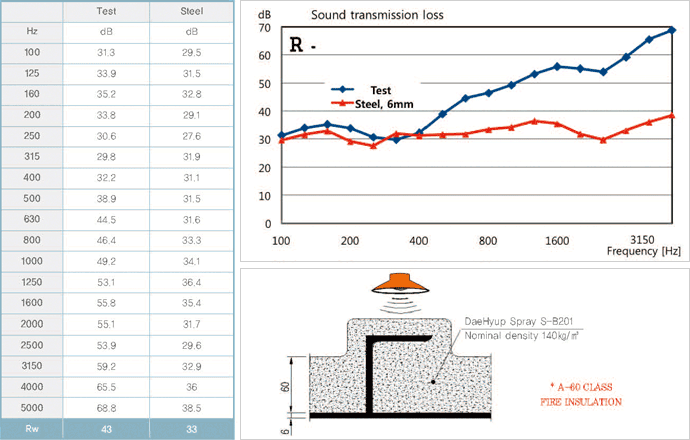 Type approval and certificates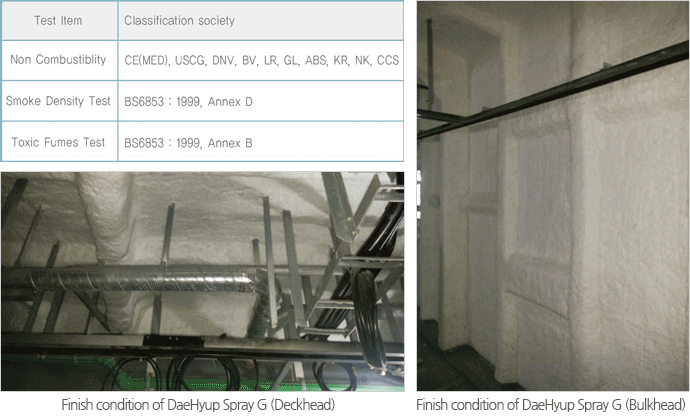 DaeHyup Spray S B-15 class Bulkhead system(S-B301)
DaeHyup Spray S S-B301 system has been approved as B-15 class draft stop system.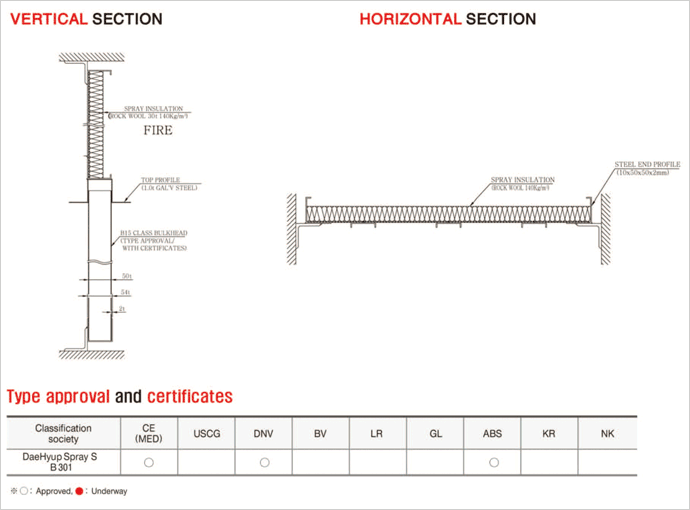 DaeHyup Spray LPO Spray Type Vinyl Coating Product
LPO is a fire retardant type product which is used for finishing material on DaeHyup Spray insulation system.
The main active ingredient for LPO is based on Ethlene vinyl Acetate. Use for finish materials to the spray
insulation surface, in case of visible parts, such as stores, engine room, machinery rooms and etc.
Characteristics
•Replace the function of Al-Foil with excellence film formation
•Excellence adhesive property with DaeHyup Spray Insulation system
•Easy repair and maintenance
•No joint line
•Variety color(white, light gray and any require color)
•Easy application due to spray type
•Fire retardant and non smoke and toxicity type
•Oil capper barrier type
Application
Use as finish mercurial to the Spray Insulation surface, in case of visible parts, such as stores, engine room, machinery rooms and etc.
Use for reinforcement to the spray insulation surface to avoid of any mechanical damage, around of window
box and door, for example
Al-Foil with Fiber Glass Cloth

DaeHyup Spray LPO

Quality guidance for DAEHYUP SPRAY insulation system




1. General
These instructions have been prepared to assist DaeHyup Spray installing contractors in their efforts to provide quality workmanship in the field application of DaeHyup Spray product and inspectors to their correct inspection.




2. DaeHyup Spray spray machine
The Recommended appliances are Mini jet type and Multi type.




3. Spray instructions
3.1 Surface preparation
- No need paint on the zinc primed steel plate
- The surface is free from grease, oil, rust, and loose particles
- The space temperature exceeds +0℃.
- Humidity is under 80%.
- When temperature is under +0℃, heat with heating machine.
- Room temperature shall be heated below 15℃ and be well-ventilated for condensation control.
3.2 Licensed Sprayer
the work is done only by contractors with documented skill who are approved by DaeHyup Spray Co., Ltd.




4. Spraying
4.1 Marking the thickness
When starting the spraying there should be made a marking the requested thickness for the sprayer to follow according to the table of material consumption.
4.2 Priming of surface
When starting spraying, it is recommended to prime a few area of the surface with LPA.
4.3 Spraying procedure
- Inside of stiffener or beam
- Around of stiffener or beam
- Spraying from down position toe the upper direction
- Loose wools when spraying can be used with filling material for the inside of stiffener and cleaned it with brush or vacuum cleaner.
4.4 Padding or Rolling
- If tamping is required in the specifications, allow some curing of the DaeHyup spray, lightly roll or board pad to obtain flatter finish.
- Over spray with binder to seal surface.





5. Test of material
After having sprayed a surface of approx. 10㎡, it is recommend to cut out a sample piece of about 300x300㎜ of the sprayed material. Check that the material is right, and the density by weighing and measuring the sample piece. Density(㎏/㎥)=weight(㎏) / 0.3m0.3m x t(Thickness, m)


DaeHyup Spray G

DaeHyup Spray S (A60 CLASS)

DaeHyup Spray S (A30 CLASS)

6.Measuring the thickness
- 3 or 4 points per square meter shall be measured by measuring tool, and an acceptance criteria is - 2㎜.
- The applied surface is too thin(-2㎜), an extra layer up to the correct thickness should be applied.





7.Repairing method
Repairing method of the damaged insulation parts :
a. Sprayign of LPA and LPB binder on damaged surface and insulation by hand spraying tool sufficiently.
b. Re-attach damaged insulation on damaged surface.
c. If there are small damaged insulation, it can be repaired by mixed spare wool with binders manually.
d. In case of the large parts of insulation is damaged, please contact with DaeHyup Spray Co., Ltd.