BILLYTEX Sound Damping System
Sound Damping Floor Systems are innovative products in reducing the transmission of noise and vibration, by to the ideal structures consisted of various components. These compositions are as below described.
Characteristics
1. Constrained visco-elastic vibration damping systems
The Deck Composition &Steel Tiles constrained visco-elastic damping construction applied on top of the deck plates is the solution to reducing the radiated sound power from the deck. The resonant vibration of the deck is decreased by increasing the loss factor of the construction. This system provides an extremely high sound reduction, which far exceeds all similar systems. This unique vibration damping construction consisted of Visco-elastic and Deck composition or Steel tiles as constraining layer.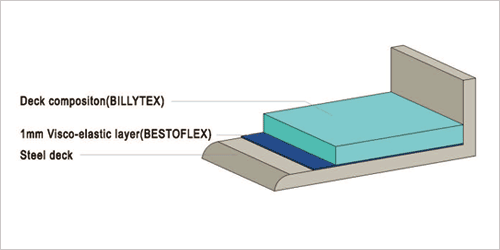 BILLYTEX DPU-BF DC
- Visco-Elastic (BESTOFLEX) 1 mm + Deck Composition (BILLYTEX) 10 mm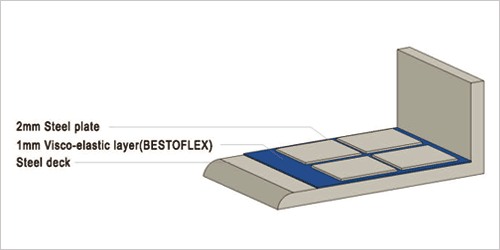 BILLYTEX DPU-BF S
- Visco-Elastic (BESTOFLEX) 1 mm + Steel plate 2 mm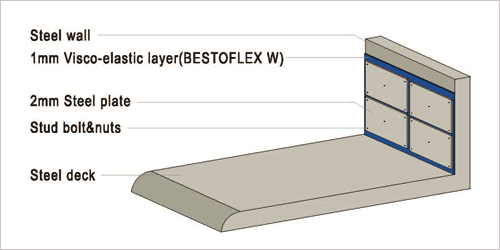 BILLYTEX DPU-BF BS
- Visco-Elastic (BESTOFLEX W) 1 mm + Steel plate 2 mm (Bulkhead)
2. Sound reducing Floating Floors
It is a combination of a constrained visco construction and a floating floor construction.
This system provides extremely high sound reduction in the low frequency area.
The marine slab was specially developed by processing Rock wool which also has high fire-resistance performance, thus they provides a significant improvement over conventional marine slab.
They also have extreme tensile strength and durability.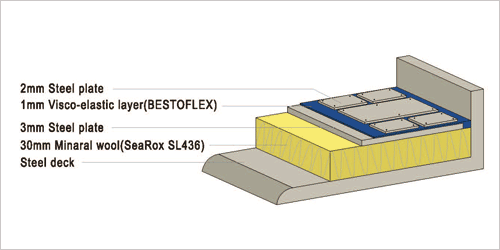 BILLYTEX DPU-BF FF
- Mineral Wool 140 kg/㎥ 30 mm + Steel Plate 3 mm + Visco-Elastic (BESTOFLEX) 1 mm +
Steel Plate 2 mm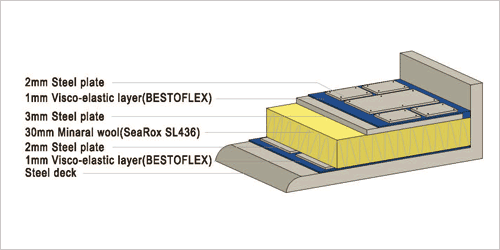 BILLYTEX DPU-BF FFS
- Visco-Elastic (BESTOFLEX) 1 mm + Steel Plate 2 mm + Mineral Wool 140 kg/㎥ 30 mm +
Steel Plate 3 mm + Visco-Elastic (BESTOFLEX) 1 mm + Steel Plate 2 mm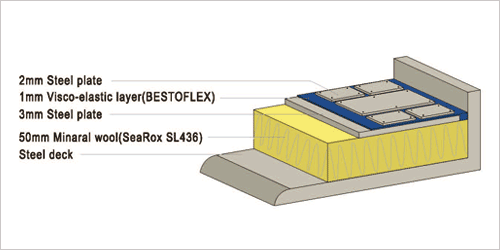 BILLYTEX DPU-BF FFA (A60 Class)
- Mineral Wool 140 kg/㎥ 50mm + Steel Plate 3 mm + Visco-Elastic (BESTOFLEX) 1 mm +
Steel Plate 2 mm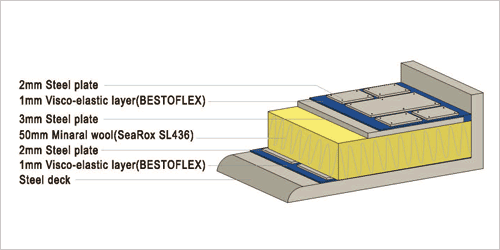 BILLYTEX DPU-BF FFSA (A60 Class)
- Visco-Elastic (BESTOFLEX) 1 mm + Steel Plate 2 mm + Mineral Wool 140 kg/㎥ 50 mm +
Steel Plate 3 mm + Visco-Elastic (BESTOFLEX) 1 mm + Steel Plate 2 mm